Exterior Siding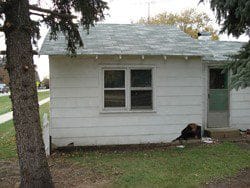 Exterior Siding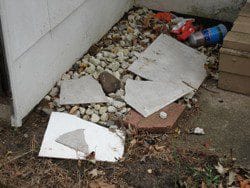 Damaged Exterior Siding
Siding on 2nd Floor only
Siding with "wave" bottom
Transite is a composite fireproof material that has been used in the building trades since the late 1920s. Until the mid 1980s, transite included 12% to 50% asbestos, mixed with Portland cement. Due to its cement content, these tiles are very rigid and pose a minimal risk of fiber release if left alone!
These tiles are very tough, and hold up extremely well against "normal" conditions. However, since these tile are so rigid, the can become broken and damaged accidentally. Some of our recent projects were due to a tree falling on a home and damaging the siding, and several customers that were remodeling and wanted their siding upgraded.
It is not recommended to install new siding over transite panels. These panels typically break while fastening furring strips or installing new siding over them, causing a fiber release.