Roofing Shingles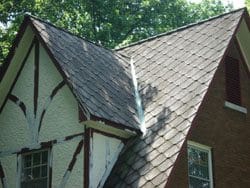 Standard ACM roofing shingle in the area
ACM Shingles are eroded from the rain water
Standard ACM roofing shingle in the area
ACM shingles on a "nook" roof
As with transite siding, transite roofing shingles are very durable. Transite is a composite fireproof material that has been used in the building trades since the late 1920s. Until the mid 1980s, transite included 12% to 50% asbestos, mixed with Portland cement. Due to its cement content, these tiles are very rigid and pose a minimal risk of fiber release if left alone!
Since there is very little risk of accidental damage to roofing shingles, these roofs last for decades. As with the transite siding, it is not recommended to install new roofing shingles over transite panels. These panels typically break while fastening new shingles over them, causing a fiber release.
Unlike siding, occasionally the transite shingles can erode and lose their resilience. One of the more obvious signs of worn transite roofing shingles is the formation of mold. This is another reason our customers have their roofs removed by us.